Security - Secure Your Financial Information
Banks Never Ask That!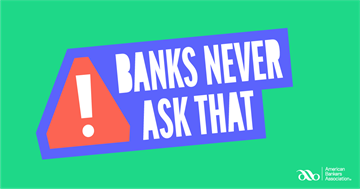 Can You Spot a Phishing Scam?
Every day, thousands of people fall victim to fraudulent emails, texts and calls from scammers pretending to be their bank. And in this time of expanded use of online banking, the problem is only growing worse. In fact, the Federal Trade Commission's report on fraud estimates that American consumers lost a staggering $1.9 billion to these phishing schemes and other fraud in 2019 — and the ongoing pandemic has only increased the threat. Imagine where we are in 2020.
It's time to put scammers in their place.
Online scams aren't so scary when you know what to look for. And at Auburn State Bank, we're committed to helping you spot them as an extra layer of protection for your account. We've joined with the American Bankers Association and banks across the country in a nationwide effort to fight phishing—one scam at a time.
We want every bank customer to become a pro at spotting a phishing scam—and stop bank impostors in their tracks. It starts with these four words: Banks Never Ask That. Because when you know what sounds suspicious, you'll be less likely to be fooled.
These top 3 phishing scams are full of red flags:
• Text Message: If you receive a text message from someone claiming to be your bank asking you to sign in, or offer up your personal information, it's a scam. Banks never ask that.
• Email: Watch out for emails that ask you to click a suspicious link or provide personal information. The sender may claim to be someone from you bank, but it's a scam. Banks never ask that.
• Phone Call: Would your bank ever call you to verify your account number. No! Banks never ask that. If you're ever in doubt that the caller is legitimate, just hang up and call the bank directly at a number you trust.
You've probably seen some of these scams before. But that doesn't stop a scammer from trying. For more tips on how to keep phishing criminals at bay, including videos, an interactive quiz and more, visit www.BanksNeverAskThat.com. And be sure to share the webpage with your friends and family.
What's Your Scam Score? Take five minutes to become a scamspotter pro by taking the #BanksNeverAskThat quiz at BanksNeverAskThat.com. Share your score on Twitter to encourage your friends and family to test their scam savviness, too. The more scamspotters out there, the harder it is for phishing criminals to catch their next victim!
---
"You've won! Now pay us" is always a scam.
August 12, 2020
Consumer Education Specialist, FTC
During these difficult economic times, it is easy to imagine our financial problems disappearing by winning a big prize. Who wouldn't like to win a million dollars, a new car, or a vacation home? But if you get a call from someone saying, "You've won," don't believe the hype.
Here's how it works. You get a call from someone who says they're from Publishers Clearing House or some other well-known organization. They say, "Congratulations, you've won a million dollars, a Mercedes-Benz, and seven thousand dollars a week for life!" or some other amazing sounding prizes. Then they ask you to pay a "processing fee," "taxes," or "shipping and handling charges," to claim your prize.
The scammers are trying to push you into a heightened emotional state, to knock you off balance just long enough to steal your money and personal information.
The fact is, Publishers Clearing House never notifies winners in advance. And anyone who says, "You've won. Now pay us," is always scammer. Period.
Consider these tips to avoid this scam:
Legitimate sweepstakes don't make you pay a fee to get your prize. That includes paying "taxes," "shipping and handling charges," or "processing fees." There's also no reason to give someone your checking account or credit card number in response to a sweepstakes promotion.
Don't send money transfers or gift cards, or give personal information. Sending money transfers or gift cards (or providing the gift card numbers) is like sending cash: once the money's gone, you can't trace it or get it back. The same goes for sending money by mail or using a money order.
Don't trust your caller ID. Scammers can make any name or number show up on your caller ID. They might use an official-sounding name like Publishers Clearing House or Reader's Digest.
Scammers don't just scam one person. Tell your friends and family about the scam so they can avoid it. Then report it to the FTC: ftc.gov/complaint.
https://www.consumer.ftc.gov/blog/2020/08/youve-won-now-pay-us-always-scam
---
Be aware of Fake Checks!

Learn more at ftc.gov/scamalerts and aba.com/consumers
---
Auburn State Bank Hosts Shred Day
AUBURN, Neb. (June 21, 2017) – Auburn State Bank hosted Paper Tiger for a community shredding event on Tuesday June 20th. Over 3,300 lbs of paper was shredded during the two-hour event.
Auburn State Bank CEO said, "this is our second year hosting this event. People are able to witness the destruction of their sensitive documents, which aids in the prevention of identity theft. We are pleased to offer this service to our community."
Auburn State Bank encourages everyone to take responsible steps to protect their identity.
---
Auburn State Bank Offers 7 Tips to Avoid Online Fraud
Every year, millions of consumers fall victim to cybercrime. According to the FBI's Internet Crime Complaint Center, in 2014, consumers lost more than $800 million from scams initiated through the web. In recognition of Internet Safety Month in June, Auburn State Bank is highlighting seven tips to help consumers protect themselves from online fraud.
"The Internet has become one of the most popular tools used to commit fraud and criminals are becoming more and more sophisticated with their hacking techniques". "As a result, it's extremely important for consumers to secure their wireless networks and filter the amount of personal information they choose to divulge online."
Auburn State Bank recommends the following tips to keep you safe online:
Keep your computers and mobile devices up to date. Having the latest security software, web browser, and operating system are the best defenses against viruses, malware, and other online threats. Turn on automatic updates so you receive the newest fixes as they become available.
Set strong passwords. A strong password is at least eight characters in length and includes a mix of upper and lowercase letters, numbers, and special characters.
Watch out for phishing scams. Phishing scams use fraudulent emails and websites to trick users into disclosing private account or login information. Do not click on links or open any attachments or pop-up screens from sources you are not familiar with. Forward phishing emails to the Federal Trade Commission (FTC) at spam@uce.gov – and to the company, bank, or organization impersonated in the email.
Keep personal information personal. Hackers can use social media profiles to figure out your passwords and answer those security questions in the password reset tools. Lock down your privacy settings and avoid posting things like birthdays, addresses, mother's maiden name, etc. Be wary of requests to connect from people you do not know.
Secure your internet connection. Always protect your home wireless network with a password. When connecting to public Wi-Fi networks, be cautious about what information you are sending over it.
Shop safely. Before shopping online, make sure the website uses secure technology. When you are at the checkout screen, verify that the web address begins with https. Also, check to see if a tiny locked padlock symbol appears on the page.
Read the site's privacy policies. Though long and complex, privacy policies tell you how the site protects the personal information it collects. If you don't see or understand a site's privacy policy, consider doing business elsewhere.